This is a tutorial I wrote for
java_junkies about how to make animated icons. In it, I'll show you how to get frame-by-frame screencaps and how to turn them into something like this:


First things first. To make an animated icon, you need your screencaps, and that means you need to know how to cap frame-by-frame.

Getting your screencaps

To get my frame-by-frame caps, I use a program called "VLC Player." It's free and works on just about every operating system known to man, and will cap almost every file format you can think of. You can download a free copy of it here.

Open the program and click Settings > Preferences (for Windows users) or VLC > Preferences (for Mac users). Click on the video tab and then click "Advanced" (Mac) or "Advanced Options" (Windows) at the bottom of the screen. Now, click the + sign next to "Video" (Windows) or the arrow (Mac). You should now see three options: "Output Modules" "Filters" and "Subtitles". Make sure your screen looks like this:




Click the + or the arrow next to "Output Modules" and then click "Image File". Make sure your screen looks like this (especially the "recording ratio"):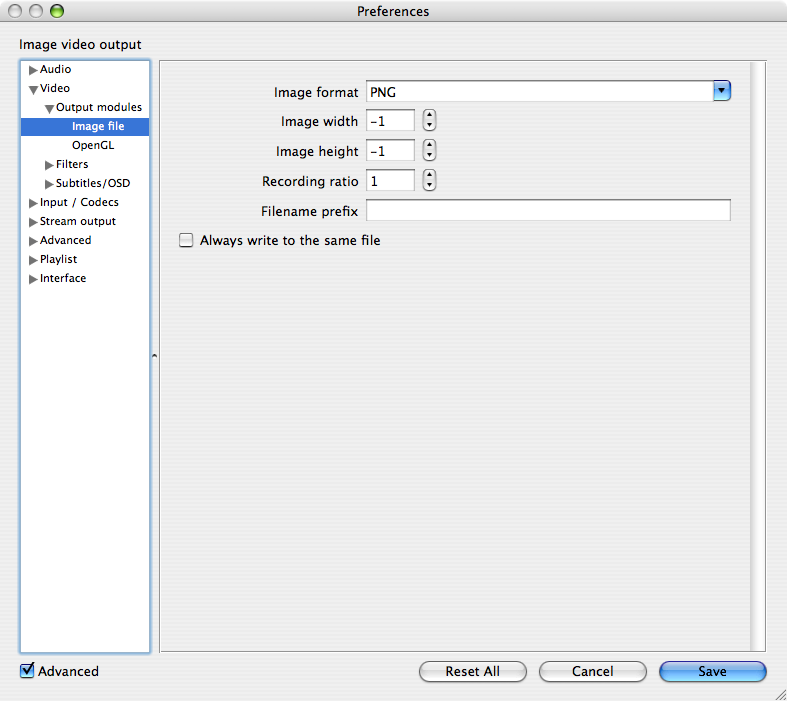 Click save. Now, open your video clip that you want frame-by-frame caps of. If it doesn't start automatically playing, press play. Don't worry if you can't see any video. You're not supposed to. This is what my VLC player looks like while it's capping something:





Now, VLC has a tendency to only save screencaptures directly to my harddrive, so for Mac users, you'd just open up "Macintosh HD". For Windows Users, try your harddrive as well. I've tried telling it to save them to other places, but if VLC has one flaw, it's that it simply won't do it for me, so they should be on your harddrive folder.

What you should have now is a series of screencaptures named "000000.png" "000001.png" etc, and they should be frame-by-frame.

Getting ready to animate

Now, usually the most I can fit in a mini-movie icon is roughly 27 frames. Sometimes it can be less than that, but 27 is what I usually start with. So what I've done is pick out the frames I want to use. Open them in Photoshop.

Now, it's time to create the base for your icon. Personally, I like mine fairly plain; this allows for more frames. This is mine:




All I did was draw little corners, and then put a gray square (#b1b1b1) in the center, so that there will be a small border around my animation on my finished product.

Now you're ready to start adding your screencaps.

For this animation, I'll be using the entire cap instead of just a portion of it, so we won't be cropping.

Resize all of your screencaptures to the size you'd like them to be. For mine, I'm resizing them to 67x38.

Now, if your caps, like mine, look a bit dark at that size, then simply duplicate them and set the top layer to screen. Merge down.

Okay. Now you've got all your caps at 67x38 and bright enough to use. Start with the first frame and paste it as a new layer onto your base. Then paste the second on top of that, also as a new layer. Keep going until all your caps are pasted one on top of the other on your base. If you want text to appear at the end of your icon, like on mine, add a new layer, select the area currently inhabited by the top frame, and fill it with white, so that now you have a plain white icon again (or in my case, plain white with the four gray corners I drew earlier). Now add your text.

Now you should have something like 30 layers or so (could be less, could be more, but the point is that there's your base, then one layer for each frame). Now, see that little button that looks like this:




Click it. Image Ready opens, and just like magic, it has moved the icon into IR.

Now, here we go. See that little button that looks like an eyeball next to each layer?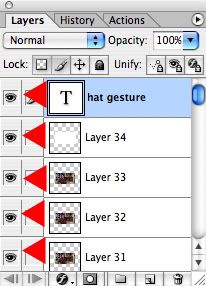 Click it and it disappears. What you're doing is hiding layers. You want to hide all of them except for your base and your first frame. Whatever you leave showing will be the first frame of your icon, so anything you want hidden, click that eyeball.

On the animation toolbar, there is a button for duplicating frames. It looks like a square with its corner turned up. Click it.

Now go back down to your second frame and click the eyeball next to it to un-hide it. Click the frame duplication button again. Un-hide the third frame, click the frame duplication button. And so on and so forth until all your image frames are revealed and the only thing left hidden is your white box & text.

Un-hide those, but set the text layer & the white box layer to 33% opacity. Click duplicate frame. Set the text & white box to 66% opacity, click duplicate frame. Finally, set the text and white box to 100%. DON'T click duplicate frame this time.

Now you need to set your frame delay. See those numbers beneath each frame? Change them to how fast or slow you want your animation to move. For mine, I set each image frame to .1 second, the 33% and 66% opacity frames to .04 second, and the final frame with the text showing at 1 second.

Make sure your optimized box looks like this:




Now go to file, save optimized as, and pick where you want to save it, and under what name. Now, LJ only lets you have up to 40 KB per icon, so check to see if your icon is over 40 KB. Right now, mine is 64 KB, which is over the limit. Don't worry, we can lower the file size. Go back to that optimized box, and where it says "256" change it to "128". Now re-save just as you did before, and check the file size now. Mine is still 48 KB. Again, don't worry! Change the "128" to "64". There. Now my icon is exactly 40 KB. What changing that number does is affect how grainy the picture is. The lower you take it, the grainier it gets. You can usually have a decent-looking icon at "64," but once you get lower than "64," it tends to just look bad, so "64" is as low as I usually take it. If it's still too big, then I'll delete a few frames until I get it down under 40 KB. The less frames you have, the less you'll have to do to adjust the file size downward, though. For example, a 10 frame animation is usually fine at "256."

So now I've got my finished product:




And it's that simple! If you have any questions, feel free to ask me. :)